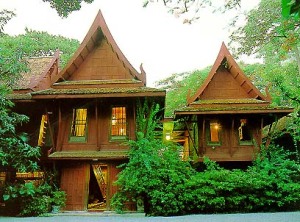 Don't be fooled by its 'farang' name, Jim Thompson's House is one of the country's finest examples of traditional Thai architecture. I'm sure you already know the story behind the  finest brand of Thai silk and its creator, but you're probably wondering why we're suggesting it as a perfect place for you to visit with your visiting friends and family. Not only is this  house-cum-museum teaming with historical stories for you and your guests to learn about together, but it's also filled with a variety of silk treasures like dresses, scarves, and even neckties that you can buy for each other to remember your time at this famous property.
The six teak buildings that make up Jim Thompson's residence are centuries old and hail from the distant, ancient capital of Ayutthaya. You'll learn all about it during the initial guided tour where you'll get up-close-and-personal with Mr. Thompson's massive collection of antiques and art from around Southeast Asia, such as the 6th century Buddha figure that is one of the oldest in the world.
While touring the Jim Thompson House, you may notice a fascinating mix of Western and Thai culture. While he was a strong business man and architect, Jim Thompson's success would not be possible without a deep appreciation and understanding of Asian ideals. We hope that by the end of the outing you will share his passion for Thai culture as well.